Clinical Skills Laboratory
Tutor Demonstration Unit
14 KaVo phantom head units
6 Leica microscopes
Digital 3D Prep-Assist Scanner
Gendex Digital X-Ray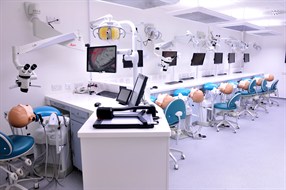 Each of the KaVo phantom head units within the skills lab is perfect for restorative, endodontic or periodontic simulation. Each unit has a fast, slow and straight hand piece as well as a curing light and ultrasonic scaler, plus air and suction.
Each workstation was its own web enabled PC and monitor for displaying the tutor demonstrations, which can be switch at the push of a button to display images direct from the wall mounted microscope, digital x-ray or KaVo 3D Prep-Assist Scanning System. In addition, we can make available loupes for each workstation.
---
Lecture Theatre
Dual Projection
Visualise
Star Board
White Board
Our modern lecture theatre can comfortably accommodate 24 delegates, with dual HD projection, visualise and star board. The room can also be set up board room style for meetings of up to 16. As with all rooms in NPDEC, you have access to a web enabled PC and each room has full climate control.